WHOO HOO...You Made It
THIS IS YOUR FREE RESOURCE SITE
be sure to save this URL to your Favorites so you can access anytime - without registering again
Make The Phone Ring Again
Automating the Personal Touch
Why does this program really work?
Let the Loken Group tell you why:
---
Apology Letter/Reconnect Letter
---
The Brand Plan (8x8 & 33 Touch)


Watch it Now for FREE! click here
---
HOW to Automate the Personal Touch

CAUTION
be sure to watch "Your Database is a Lead Goldmine" first
or this webinar may cause your brain to explode
---
Power of a Handwritten Note
Did you read about the power of a handwritten note?
Here is one more Mastery Tip:
Increase the impact of your handwritten note by not using the words, "I", "me", "my" in your note. Make the note about THEM! Talk about how great it was to talk with them. Talk about their personality...or something about them. When you tell someone how great they are and point out personality traits you like about them, they will love receiving the note, and they will remember WHO sent the note.
---
This is our NEW IMPROVED Follow up System!
Today is more of a Relationship Based world
than a Marketing world
(see the video "The New Marketing World" to the left)

We have been using this plan since 2003 and it has generated an average of 100 sales per year for 10+ years running. The secret is that we did not focus on "who" to put in the database...we just put everyone in the database. The reason is that National Board of Realtors statistics have shown the average person moves every 5-7 years. That means out of the next 100 people we meet, approximately 20 of them will move this year. Twenty more will move next year, and so on. This plan was developed as a generic follow up system for everyone you meet every day that is not a FSBO, Expired, Potential Buyer or Seller. This plan is for everyone else AND when you just focus on adding 5 to your database every day...it is pretty simple to do. This plan has been improved to include more personal touches. The more personal the touch (and blast mailing and email campaigns are no where near a personal touch) the more return on investment you will get from that relationship. This is were the true 12:2 return ratio (mentioned on pg 187 of the Millionaire Real Estate Agent) comes in. For every 12 people you get into relationship with and market to consistently and persistently, you will get 2 pieces of business. That means for every 120 people you know, you will have 20 transactions.
8 in 8 Follow-up Plan

DOWNLOAD: Incredible 8x8 Follow Up System (Publisher File)
OR
DOWNLOAD: Incredible 8x8 Follow Up System (Adobe Acrobat File)
8x8 Plan from The Millionaire Real Estate Agent by Gary Keller
33 Touch Follow-up Plan

We add approximately 5 people a day, EVERY DAY, and follow up the 8x8 drip with the 33 Touch plan. We have these plans set up in our database under the campaigns/action plans. Everything is automatic once we input the prospective client into the database. No matter who we meet we send a hand written note, then follow up with 8 contacts in 8 weeks. At the end of the 8 weeks, we then keep in touch with them through 33 contacts a year...every year. forever!
DOWNLOAD: Incredible 33 Touch Follow Up System (Publisher File)
OR
DOWNLOAD: Incredible 33 Touch Follow Up System (Adobe Acrobat File)
33 Touch Plan from The Millionaire Real Estate Agent by Gary Keller
---
Why the Consistent Persistent Drip Works
AND....here is MORE Free information to help you get your database in order
Series of Short 5 Minute Video Tips
Your Database is a Goldmine
Agents, like you, are realizing how automated action plans are working to manage your contacts! Just by implementing simple follow up systems, they are closing on business they would have missed. The phone is literally ringing again from their database. One particular result from this plan is a real estate business generating 2-3 listings per week for over the last 7 Years and the plan was taken directly from pages 133-148 of The Millionaire Real Estate Agent based on the
4 Laws of Lead Generation:

1. Build a Database
2. Feed it Everyday
3. Communicate with it in a Systematic Way
4. Service All the Leads that Come Your Way
This Home Study Course will help you get 1, 2 & 3 automated so you can deliver on #4
BETA Home Study Course: We are launching our Home Study course for all KW Family Reunion attendees. Would you like to take this course from the comfort of your home or office, AND take the course when it fits in your schedule? We are offering a 50% discount AND follow up group calls with Coach Korn as you are going through the course material to help you get these systems implemented. We want your feedback and help to make this the course you GET IMPLEMENTED....and we are offering you a 50% on the entire MTPRA Home Study Course. Help us help you make this the most incredible investment you have ever made in your real estate business.
16 Hour Course: Make The Phone Ring Again
What will you put into action? This 16 weeks gives you the Step by Step process and accountablity follow up to stay engaged in the course and get the 3 Pillars of Follow up implemented in your business. These 3 Pillars are the MONEY MAKING automated plans that will Make Your Phone Ring Again.
Session 1: Getting the right mindset is CRITICAL for anyone to get through the next 15 calls. PLUS in this call we will give you the tool that will help you add 5 people to your database every day.
Session 2: What database should I use? Wait till you hear the real answer! Follow the suggestions in this session and you will have a database you "LIKE"
Session 3 thru 6: Pillar #1: Creating and implementing your Reconnect Plan
Session 7 thru 8: Pillar #2: Creating your Brand Plan with a consistent 8x8 follow up
Session 9: Prepares you to handle all the action items that will be showing up in your dashboard
Session 10: Using Social Media to connect and feed your database every day
Session 11: Specialized and Niche Brand Plans to increase your connection with specific target groups
Session 12: Pillar #3: The consistent, persistent 33 touch plan that will get your real estate business off the roller coaster and get a consistent persistent business flow.
Session 13 thru 14: How to handle your new system and the business growth you will experience, and keep the systems running
Session 15 & 16: Recap the entire course to help you connect all the dots and see how it all fits together for the ultimate business machine
****Limited Seating on Beta Group****
note: the course is not in beta, we have had over 500 agents take this course.
It is the home study portion you will be working with Brad on to create an accountability system
that helps you implement more of the systems.

Get Your Database System in place NOW before the Summer Season hits.
Click below TODAY to save your spot for this special, one time beta opportunity
to work with Coach Korn and turn your database into a GOLDMINE
Don't worry if you are not ready to commit to the BETA Test. We have more FREE Stuff for you!
****Remember: You have this FREE Resource Site
that has the information you need to start this system yourself***
Save this page to your "Favorites" in this web browser, then click below
no thanks, I will wait on the Beta Group, Take me to MORE FREE Stuff
Much of this is the same as what is available on this page, however you will get to experience the actual Korn Team 8x8 Drip campaign that use use every day in our
Kansas City & Lincoln, NE Real Estate Business
(feel free to copy and use anything you want from this plan)
There is one more registration page to complete,
however we only need your email this time :)

ALSO: We will notify you when we will be releasing more opportunities for you to sign up for this course once we get feedback from the Beta Group and ensure you have the a killer plan and course of action for implementation.
---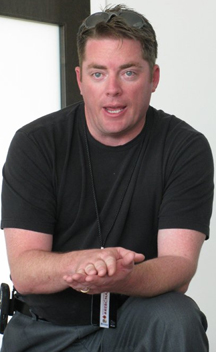 Brad has built a nationally recognized Real Estate Team over the past 21 years. "Managing, running, and building a real estate business has been like starting a Fortune 500 company" brad says. In the past he has done a lot of things wrong, learned from those mistakes, and overcome all the challenges of running a successful, profitable business.

Now he brings that experience to you. Through Executive Coaching, you can Stand On the Shoulders of Giants! and have Quantum Leaps in your business without going through the Trial and Error stages.

Brad will Teach, Train and Coach to your or your teams' personal needs, however he has personal experience on several topics:

*Your Database is a GOLDMINE! You can double your business right now, and it is right in front of you. Brad has created a 16 week Fast Track Course, Mastering Your 8x8 & 33 Touch. This course will help cash in on the Millionaire Real Estate business models and get a 12:2 return from your database.

*Hiring and running a Team: How do you truly get "buy-in" from everyone on the team

*Systems, Systems, Systems: Brad will help you automated your business, your day to day activities, and your entire operation & accountability. The right systems free you up to focus on your 20%.

***and of course, with the John Maxwell certification, you will see the teachings of John Maxwell throughout all the material.
Coach Korn
2026 NE Waterfield Place
Blue Springs, MO 64014
(816) 220-1661
brad@coachkorn.com
---
All logos, designs, names, images, concepts, processes and technology are the branded and protected property of
Bradley Korn PC. Trademark and Copyright infringements will be prosecuted.
© 1991-2014, Coach Korn