The New Marketing World
---
---
Is your 33 Touch BOLD?
Make the Phone Ring Again Session beginning SOON
---
Do you want to be AWESOME?

crank up your speakers!
it is
YOUR TURN
to
BE AWESOME!
ANYTHING is Possible
if you make it your
ONE Thing
---
Sample Marketing from The Korn Team in Kansas City
Branding
the New Business Card

Buying a Home in Kansas City?
This is on our website for local residents to get a Copy of our
Complete Guide to
Buying a Home in KC!
They get a FREE copy when they schedule a
FREE Buyer Consultation to help them take advantage of the KC market.
(816) 224-KORN (5676)
---
Another way to get FREE Advertising
The Korn Team on HGTV
---
Power of a Handwritten Note
Power of the Hand Written Note
---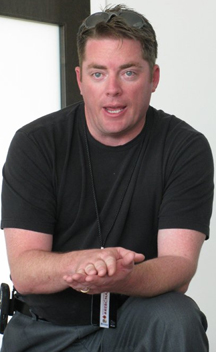 Brad has built a nationally recognized Real Estate Team over the past 21 years. "Managing, running, and building a real estate business has been like starting a Fortune 500 company" brad says. In the past he has done a lot of things wrong, learned from those mistakes, and overcome all the challenges of running a successful, profitable business.

Now he brings that experience to you. Through Executive Coaching, you can Stand On the Shoulders of Giants! and have Quantum Leaps in your business without going through the Trial and Error stages.

Brad will Teach, Train and Coach to your or your teams' personal needs, however he has personal experience on several topics:

*Your Database is a GOLDMINE! You can double your business right now, and it is right in front of you. Brad has created a 16 week Fast Track Course, Mastering Your 8x8 & 33 Touch. This course will help cash in on the Millionaire Real Estate business models and get a 12:2 return from your database.

*Hiring and running a Team: How do you truly get "buy-in" from everyone on the team

*Systems, Systems, Systems: Brad will help you automated your business, your day to day activities, and your entire operation & accountability. The right systems free you up to focus on your 20%.

***and of course, with the John Maxwell certification, you will see the teachings of John Maxwell throughout all the material.
Coach Korn
2026 NE Waterfield Place
Blue Springs, MO 64014
(816) 220-1661
brad@coachkorn.com
---
All logos, designs, names, images, concepts, processes and technology are the branded and protected property of
Bradley Korn PC. Trademark and Copyright infringements will be prosecuted.
© 1991-2011, Coach Korn