Make The Phone Ring Again
as seen at MegaTech in Austin


Visit www.MakeThePhoneRingAgain.com for more information and how to get the course
16 HOURS of Jam Packed Information
Are you Ready to MASTER a Persistent, Consistent Touch
and develop the habits of feeding your database every day?
This 16 hour course will give you a MASTERY understanding of how and why a more persistent, consistent follow up plan will increase your business. Do you want to get ALL your systems in your entire business automated right away? Now Brad offers and 1 or 2 day, in office consultation where you will get all your systems from Follow Up to Your Listing Process, Buyer Process and any other systems you have created and implemented before he leaves your office. Find out Brad's availability to come to your office by sending email to [email protected]
Testimonials

Hear what our MTPRA attendees have to say about their experience turning their database into a Goldmine
16 HOURS of JAM Packed Information
People like working with (and refer people to) a real estate agent they know, like and trust. The problem? Those same people, your real estate database, do not jump out of bed everyday and go find real estate business for you. However, if you follow the proven models from The Millionaire Real Estate Agent and The ONE Thing by Gary Keller, you can double or triple your current real estate business AND it will be working with people YOU want to work with. In this real estate lead generation training course, Coach Brad Korn shares these proven models in his How To Make The Phone Ring Again coaching course, to grow your real estate business this year…right now! By focusing on this ONE thing everyday in your real estate business, you will be able to make the phone ring immediately with real estate referrals and new real estate clients. REMEMBER... Your Database IS Your Business!
Home Study Coaching taken at the pace you want from the comfort of your home or office. This course is broken down into one-hour sessions with support and accountability reminder system to keep you focused on course materials and help you implement the systems.
There are no holds or cancellations with group coaching programs.
MAKE THE PHONE RING AGAIN: No Waiting for the next session, it is available right now! CLICK HERE to sign up and get started
Coach Brad Korn
Start benefiting from persistent, consistent, relationship based drip system, and not even feel as though you've done any work!
Want More information about what Make The Phone Ring Again covers?
Visit our FREE Resource Site
Register for FREE and you will be directed to our free resource site after you click "submit"
(disregard information about buying or selling - that is just our default intake form from Top Producer)
---
Where is your Business Today?
Where Do you Want it to Be?
What is the GAP?
How Are You Going to Fill the GAP?
Where Can a Coach Help you Fill the GAP?
---
Coach Korn learns from the BEST, most successful people in the world
Dave Ramsey from Entreleadership:
Dreaming is the lifeblood of people and organizations that are alive and thriving." Page 24
"The Mission Statement is further clarification and definition of your dreams and vision and assures you that your goals are aimed at the right target" Page 27
"Personal Finance is not a Math Problem, it is a Behavior Problem" P.38
"If you don't own the goal and it doesn't come from your dream, then you won't have the toughness to persevere when the going gets tough" P.37
Joe Theismann has been speaking for over 25 years
Joes tip on procrastination...he never procrastinated. When he thinks about something, he talks to someone about it, then just does it.
Joe talks about "What is my Talent"? Ask yourself:
1) What is that thing that makes you different from other people?
2) How do you cultivate it
3) How do you use that talent to enhance someone else?
Joe talks about a time in his life when he became un-coach-able. He thought he knew it all. His years with the Redskins is when he thought it was all him. in 1985 he thought he would have the game of his life, and ended up with a broken leg that would change his career forever. He talked about all the deals that were made, and suggests no one ever do anything without professional advice. Have a sounding board, or someone who knows more about a particular situation than you, and listen to their advice.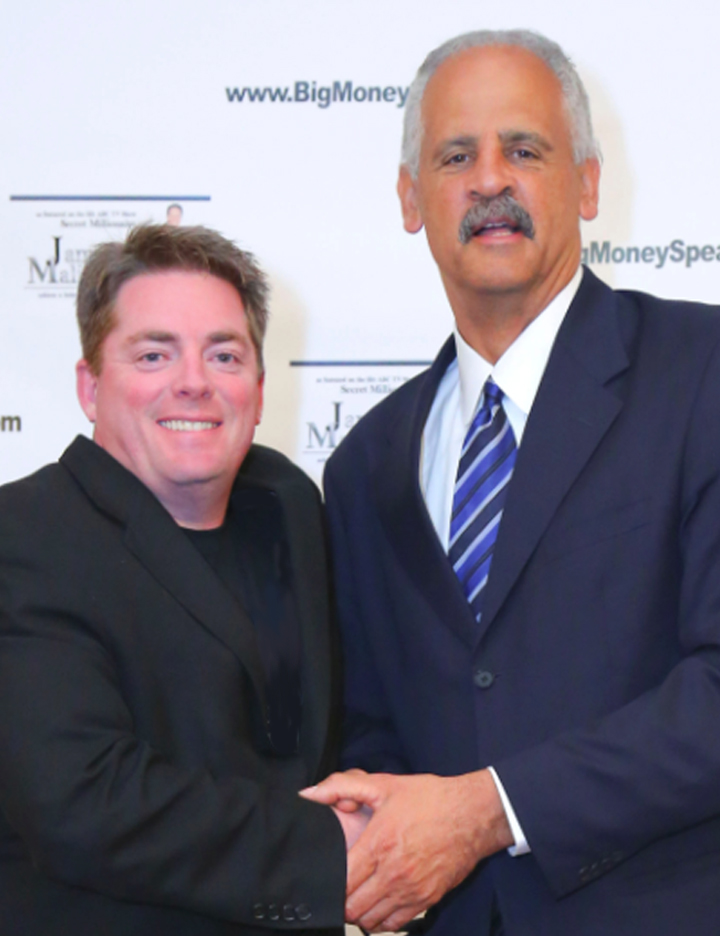 Stedman Graham has authored ten books including two New York Times Best Sellers and his newest release, Identity: Your Passport to Success.
Stedman brings a great message that helps Coach Korn's coaching clients answer throughout the coaching program. He asks "How do you Do You". Stedman has a program that he brings to corporations, organizations and non-profits that really focuses on one of the most important topics in one's success, personal identity.
Be authentic. When you are authentic, you are truly free. In order to "Do You" you need to be free. He points out that it is almost impossible to "Do You" because 99% of the population are followers and the other 1% runs everyone else. Brad helps you bring that awareness top of mind so you can move from a follower to a leader. Many people won't lead and "Do You" because they aren't going anywhere. Through these teachings, Brad helps you get a plan in place to move forward and continue to work on your mindset to be a leader.
Glen Morshower has been in hundreds of movie and television shows
Glen shares some very unique techniques that helps him land roles in movies and shows like "West Wing", "24" and how he was put in one of the sequel Transformer movies after he was killed off in the previous one!
Brad has heard Glen during his "Extra Mile" speaking program several times and he shares some great tips for succeeding in life:
Take care of the body. He will ask you, "Would you put water in your car gas tank?" Some of the things we put in our body is like putting water in the gas tank of a car.
Glen's take on life is "there is 100% or NOTHING" He is either "IN" or "OUT", glen says, "it's kind of like pregnancy, you can't be "sorta" pregnant. Just like you can't be "sorta" into something.
Brad's favorite tip that Glen shares is to do something that has never been done. Now he even says, something never done by anyone on the planet. If you can't find 1,000 things that have never been done before, you are not being creative enough.

James Malinchak of ABC's Secret Millionaire
James has been showing successful people how to build a speaking career and business from a pasionate topic you may have. He helps people write books, create product and get speaking opportunites as keynote speakers and creating your very own conference
James has great acronyms for many things like ABM: Always be Marketing & GSDF: Get Stuff Done Fast!
James was featured on the hit show, "Secret Millionaire". If you saw the episode, you would remember the "Basketball Guy". That is James. He is an incredibly talented marketing guru that can help anyone take an idea, message or passion and help them turn it into a business, and make a living (and a pretty awesome living at that) doing what you love. He is "The Real Deal" and is super passionate about helping other become successful.
Phil Collen of Def Leppard
Phil is 50+ years old and in great shape. He was a surprise guest at the bigmoneyspeaker.com boot camp in May 2012. He shared a couple great coaching tips that I share with my coaching clients:
People are waiting in the wings to distract you. Always watch out for the distractions and stay focused.
What he learned from boxing: Anything that comes between you and your goals, ATTACK it. Make it go away. Keep your eye on the ball and destroy anything that comes between you and that goal
How do you stay "fresh": Phil maintains his mindset to keep going. He always reminds himself, anything that is easy to do, is also easy NOT to do. It is always easier to give up, but anything worth fighting for, is worth fighting for. He told the story of how Rick Allen lost his arm and playing the drums for Def Leppard was worth fighting for.
John Maxwell is an internationally respected leadership expert and author who has sold more than 18 million books. He has trained more than 5 million leaders in 126 countries, worldwide.
Brad works closely with John Maxwell and has been certified to be one of John Maxwell's coaching team. In fact, Brad is one of the founding members of Dr. John C Maxwell's coaching team.
John shares so many great learning experiences through all of his leadership books and Brad studies John's teachings on a regular basis to help his coaching clients incorporate those lesson's into their life and business. Here are 7 quick lessons that Brad helps his clients incorporate into their lives:
Seven Steps to Success
1) Make a commitment to grow daily.
2) Value the process more than events.
3) Don't wait for inspiration.
4) Be willing to sacrifice pleasure for opportunity.
5) Dream big.
6) Plan your priorities.
7) Give up to go up."
― John C. Maxwell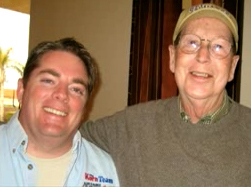 Allen Hainge started the CyberStars organization in 1995
Allen created a culture of top producing agents that sell a lot of real estate and are willing to share their best success's. This group started when NAR (National Association of Realtors) asked Allen to host a technology panel. He found 3 agents that loved to share their success to help other Realtors get ideas on how to bring technology into their real estate business.
That panel at NAR turned into a 200+ member organization of top technology real estate agents from across the globe that meet once a year in a mastermind like conference to discuss how they are using technology to help their business's be successful and help their clients take advantage of their current market conditions.
Howard Brinton has become a legend in the Real Estate industry as well
Howard started the StarPower organization many years ago, right around the late 80's, early 90's and he was famous for interviewing one top agent throughout the country each month. He would bring all the StarPower Stars together for an industry wide conference each year. This conference and his monthly interviews would go on to have a lasting impact on the real estate industry and help agents short-cut the patch to a successful real estate business. Howard and all the Stars had a huge impact on the success of Brad and his real estate business and inspired Brad to bring these experiences to his coaching clients to help them do the same.
---
---
Brad has built a nationally recognized Real Estate Team over the past 24 years. "Managing, running, and building a real estate business has been like starting a Fortune 500 company" brad says. In the past he has done a lot of things wrong, learned from those mistakes, and overcome all the challenges of running a successful, profitable business.

Now he brings that experience to you. Through Executive Coaching, you can Stand On the Shoulders of Giants! and have Quantum Leaps in your business without going through the Trial and Error stages.

Brad will Teach, Train and Coach to your or your teams' personal needs, however he has personal experience on several topics:

*Your Database is a GOLDMINE! You can double your business right now, and it is right in front of you. Brad has created a 16 week Fast Track Course, Mastering Your 8x8 & 33 Touch. This course will help cash in on the Millionaire Real Estate business models and get a 12:2 return from your database.

*Systems, Systems, Systems: Brad will help you automated your business, your day to day activities, and your entire operation & accountability. The right systems free you up to focus on your 20%.

***and of course, with the John Maxwell certification, you will see the teachings of John Maxwell throughout all the material.
Coach Korn
2026 NE Waterfield Place
Blue Springs, MO 64014
(816) 220-1661
[email protected]
---
All logos, designs, names, images, concepts, processes and technology are the branded and protected property of
Bradley Korn PC. Trademark and Copyright infringements are prohibited.
© 1991-2014, Coach Korn